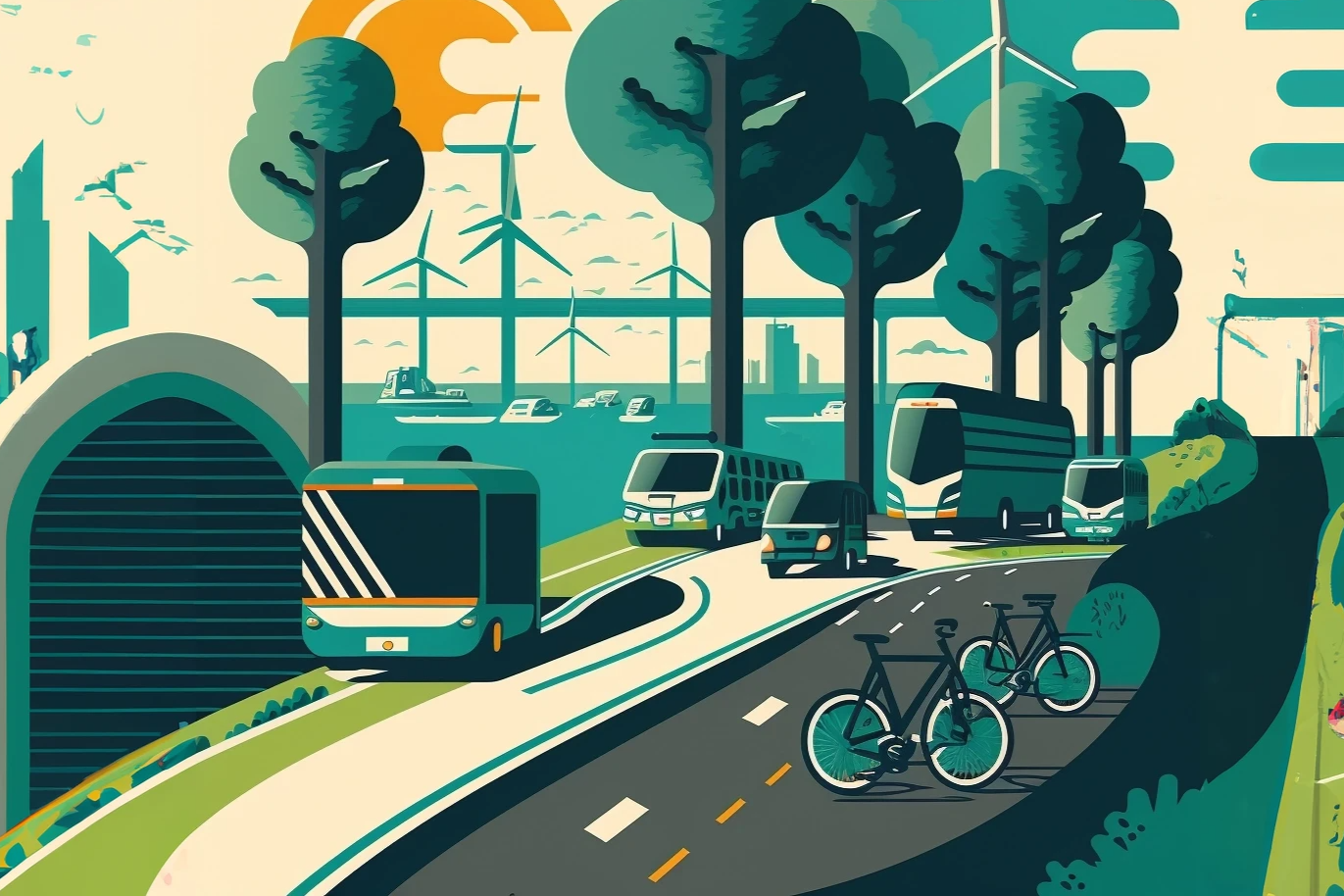 The Dutch government has made a significant commitment to reducing CO2 emissions in the Netherlands by 49% by 2030, as compared to 1990 levels. This pledge is outlined in the Dutch National Agreement, which was agreed upon in 2019 and lays out the country's climate goals in alignment with the European Commission's European Green Deal strategy. The European Green Deal aims to reshape the continent's economy in line with the Paris Agreement, while also prioritizing sustainability and fairness in the wake of the COVID-19 pandemic.
In the Dutch context, the promotion of sustainable mobility would be instrumental in achieving the country's climate goals, given that the transport sector is one of the Netherlands' largest sources of CO2 emissions, especially in urban areas. Despite the widespread railway network in the Netherlands, as well as the the country's developed cycling culture, private cars remain the dominant means of transportation.
What is the Netherlands doing to promote sustainable mobility?
In light of the Netherlands' enhanced climate commitments under the Paris Agreement of 2015 and the European Green Deal's Sustainable and Smart Mobility Strategy, promoting sustainable mobility has become a key priority for Dutch policymakers. The country's vision for sustainable mobility encompasses a range of transportation modes, including cycling, passenger and freight transport, public transit, and charging infrastructure for both road traffic and shipping.
Promoting sustainable mobility is a crucial component of the Netherlands' broader energy transition efforts, and policymakers have made significant strides towards delivering cleaner and more energy-efficient transportation options. However, achieving a complete shift towards sustainable mobility poses a range of challenges, including those related to spatial design, governance, ecology, innovation, equity, social inclusion, and health.
To address these challenges, the Netherlands is focused on key areas of transportation and mobility while working collaboratively with a wide range of stakeholders, including citizens, municipalities, provinces, research institutes, and private companies.
Public Transportation
As of 2017, all electric passenger trains operating in the Netherlands have been powered using green energy. Furthermore, under the Voluntary Agreement on Zero Emission Bus Transport, all new buses must use 100% renewable energy or fuel from 2025 onwards, and all buses must be fully emission-free as of 2030. This agreement sent a clear "transition signal" to local authorities, vehicle producers, and public transport providers. Moreover, it made the Netherlands a testing ground for the potential use of zero-emission public transport in other EU countries.
Electrification of Public Transport
The Netherlands has also progressed significantly towards electrification of its public transport fleets, with Amsterdam leading the way towards the electrification of urban mobility. Thus, while the transport sector is currently responsible for 18% of CO2 emissions in Amsterdam, mainly due to fossil fuel consumption, the city's Roadmap to Climate Neutrality by 2050 is expected to achieve the most significant reduction in emissions with a
Furthermore, Amsterdam offers free accessible public electric vehicles (EV) charging stations, ranking second in Europe in terms of the number of public chargers per million population after Oslo. In addition, the Hague, Rotterdam, and Utrecht offer free public EV charging stations.
Distribution of goods within urban centers
The Green Deal for Zero Emission City Logistics (ZES), signed in 2019 and 2020 by more than 60 public and private stakeholders, stipulates that by 2025, vehicles that distribute goods in cities will need to bring down their emissions to zero by means of connecting
Electric Vehicles (EVs)
The Netherlands became one of the leading electric transport players in Europe and the world mainly due to the national forward-looking approach on Electric Vehicles (EVs) at the level of passenger cars. In 2020, 21% of all newly registered cars were battery electric vehicles (BEVs) and 4% were plug-in hybrid electric vehicles (PHEVs). This high rate of uptake, particularly of BEVs, is a testament to the progressive electric vehicle policies implemented over the past several years. This approach includes incentive policies, ranging from subsidies and taxes to charging infrastructure so that electric car ownership now costs consumers in the Netherlands the same as diesel or gasoline car ownership. The annual National Electric Vehicle and Driver Survey showed that the exemption from vehicle tax is the most important financial incentive for private EV Dutch drivers. According to the same survey, the EV drivers in the Netherlands are mainly cost-conscious (36%) but nearly equally environmentally conscious (35%), a fact that reveals a considerable degree of car-user behavioral shift stemming from concerns regarding climate change.
Promoting Mobility as a Service (MaaS)
Dutch public authorities are also investing in the rollout of MaaS platforms (Mobility as a Service) as part of their attempt to adopt a holistic approach that would ensure the most sustainable multimodal transportation options are available. These platforms mainly involve the development of digital tools, such as smartphone applications, that allow citizens to view available mobility options and associated costs across a city, including public and shared transport.
The development of MaaS tools is expected to promote the use of shared vehicles, electric vehicles, and public transportation while also fostering innovation in data-sharing services. These applications will enable travelers to book and pay for their trips, making it easier and more convenient to choose sustainable transportation options. Dutch policymakers are hopeful that the deployment of MaaS tools will encourage commuters to reduce their reliance on private cars and instead choose more sustainable means of transportation.
Financial incentives to promote sustainable mobility
As of 2019, the city of Amsterdam has taken significant steps to reduce air pollution and promote sustainable transportation. As part of the Clean Air Action Plan, the city has implemented a range of measures to encourage the adoption of zero-emission vehicles. These include subsidies and scrappage schemes, with rebates of up to 3,000 EUR for taxis and 40,000 EUR for delivery vans, trucks, and buses.
The city of Amsterdam has also announced plans to ban all petrol and diesel vehicles from driving in the city center from 2030, while non-electric buses will be prohibited from entering the city center starting in 2022. The municipality has also committed to greening its own fleet of vehicles.
Economic benefits of sustainable mobility
Sustainable mobility not only helps to make cities less congested and polluted, but also provides significant economic opportunities. With the growing market for electric vehicles, Dutch companies can leverage their expertise in the industry to export products and services abroad. Moreover, foreign companies are increasingly establishing offices in the Netherlands, which creates new employment opportunities in the electric transport sector. The Dutch EV industry has already seen a significant rise in employment, and this trend is expected to continue in the coming years. According to the Netherlands Enterprise Agency, the number of jobs directly related to EV has increased to 6,860 full-time equivalents (FTE), while the EV-related turnover has exceeded €4 billion in 2019 and 2020.
The Role of Holistic Policy in Building a Sustainable Mobility Ecosystem
The Dutch case highlights the importance of national and local policies in driving a thriving sustainable mobility ecosystem, particularly in the context of electrifying mobility. In addition to national and local efforts, the Netherlands collaborates with international electric transport partnerships such as the Transport Decarbonisation Alliance and the Hybrid and Electric Vehicles Technology Collaboration Programme to complement and expand their initiatives.
Main challenges on the Dutch journey towards sustainable mobility
The Netherlands is currently invested in driving forward sustainable mobility in the country, while developing innovative business and multidisciplinary research models with multiple stakeholders. Notwithstanding the progress made so far, the transition to sustainable mobility in the Netherlands (both private and public) is still facing considerable challenges. The main hurdles facing the transition to sustainable mobility in the coming years include affordability, access to funding for private companies and start-ups and regulatory barriers.
Furthermore, the transition to sustainable mobility is not taking place in a vacuum. In the meantime, Dutch cities are expected to experience rising stress levels as a result of climate change, coupled with growing urbanization trends, which are expected to be accompanied by health and social challenges. Thus, Dutch decision makers would need to move forward decicively, and work in a holistic fashion to continue and promote the transition to CO2-neutral mobility.
Promoting sustainable mobility in the Netherlands and elsewhere: The way forward
In conclusion, the Netherlands has made a significant commitment to reduce CO2 emissions in the country by 49% by 2030. As one of the largest sources of emissions, the transport sector is critical to achieving this goal. To promote sustainable mobility, the country is focusing on public transportation electrification, the distribution of goods in urban centers, the use of electric vehicles, promoting mobility as a service, and offering financial incentives to citizens. Although challenges remain, the Netherlands is working collaboratively with a wide range of stakeholders towards delivering cleaner and more energy-efficient transportation options. The country has made significant progress towards achieving its climate goals, and it serves as a model for other countries that wish to promote sustainable mobility. By continuing to prioritize sustainability, fairness, and equity, the Netherlands will continue to make strides in reducing emissions and ensuring a more sustainable future for all.
---
The opinions expressed in this text are solely that of the author/s and do not necessarily reflect the views of the Israel Public Policy Institute (IPPI) and/or its partners.