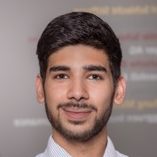 Nathan Appleman
Visiting Fellow
Nathan joined the Israel Public Policy Institute (IPPI) as a visiting fellow in October 2018.
As an IPPI Fellow, Nathan is supporting the Fuel Choices and Smart Mobility Initiative at the Prime Minister's Office on designing an EV-compatible transport taxation scheme. He also assists the Heinrich Böll Foundation on a project about waste management in the Middle East. His research focuses on Israel's transport decarbonisation strategy and possible lessons for German and French energy transition strategies.
Nathan is a recent MPP graduate and aspiring expert on topics ranging from renewable energy and transport policy to resource economics and geopolitics of energy. In his recent work, he has led a project on strengthening local environmental governance in Tunisia, targeting newly elected municipal councils, mayors, potential candidates and the Ministry for Environment and local affairs. He has also taken part in several international consultancy projects on co-benefits, renewable auction design, and energy efficiency measures.
Nathan is a French-American citizen and holds a BA in International Politics from King's College London and a master's degree in Public Policy from the Hertie School of Governance, Berlin.
AREAS OF EXPERTISE:
Environment & Sustainability